VACANCIES
MASTER ASSIGNMENT FOR INDUSTRIAL DESIGN ENGINEER: SOLAR POWERED CAMPING TENT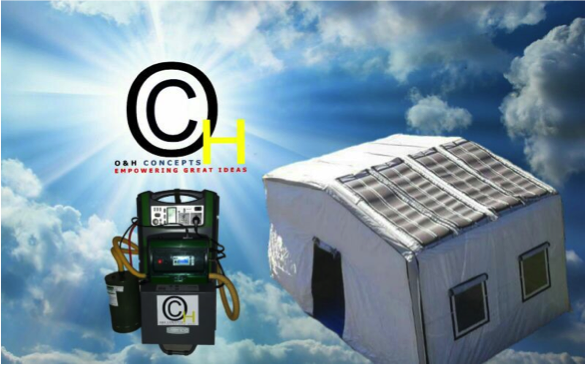 About O&H Concepts BV
O & H Concepts BV is a young and dynamic company that invents and develops innovative concepts based on strategic partnerships with international parties . Our company slogan is "Empowering good ideas" Collaboration with talented people in an accessible corporate culture is our key to international success. Besides innovative concepts and products we offer students the opportunity to share our international network for their future career.
Our latest project : SSI
In collaboration with the University of Twente we have developed a Self Supporting Inflatable Shelter (SSI ) with flexible solar panels and a plug & play smart converter for charging of various electrical appliances. The SSI shelters can be endlessly connected with each other and can be used during natural disasters and other crisis situations. At present, the SSI has a production line at our international strategic partner, Airquee.
The challenge…
The next challenge is to create more awareness through experience marketing for solar power in consumer markets. Therefore, O & H Concepts BV develops in collaboration with the University of Twente a Solar Powered Camping Tent, with the aim to launch it soon on the market.
For this purpose we aim at:
• The creation and development of a concept for a product platform for camping tents for consumers.
• Set up of a camping tent line for end-users with a focus on various tent structures for various uses.
• Further development of the features, functions and interface of plug & play smart converters for consumers.
Profile of the candidate The candidate should be a student of the Master of Industrial Design Engineering, who will be full time available for a challenging final master assignment in an international context.
O&H Concepts is also looking for candidates who have interest in designing a smart interface for their ISS shelter which can be used by a broad range of non-technical users. If you have interest in a master project in this field, please feel free to contact O&H Concepts for more information.
More information
For more information, or to apply, use the links below, or call Mr. J. Rijnenberg at 06-30 14 16 74.